The Odells Shop in LA's Silver Lake is The Epitome of California Cool
Welcome to Mama Shops, an FM Journal series that highlights beautiful stores owned by mothers.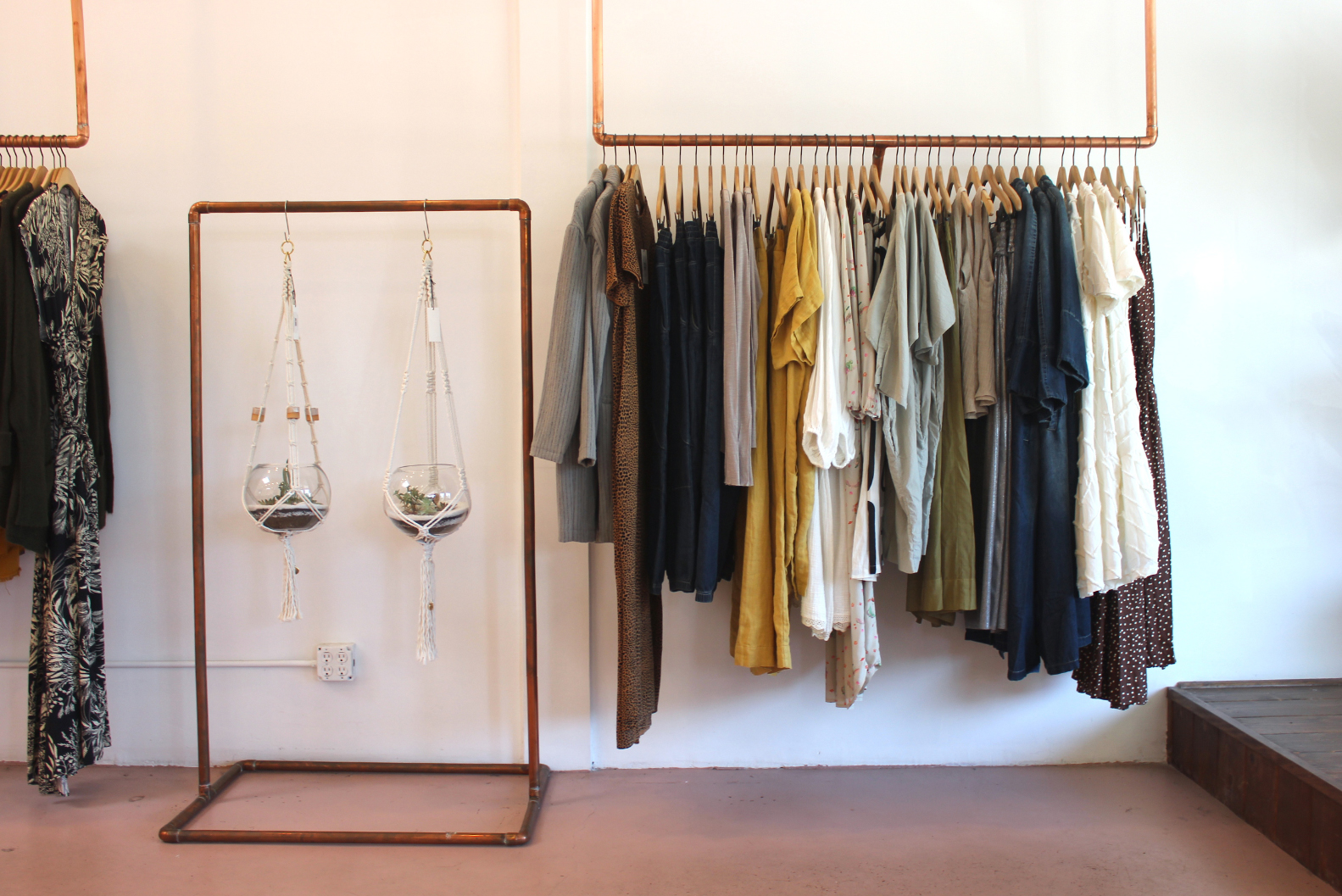 Laura and Jason O'Dell are serious #relationshipgoals. Since meeting in 2001, they've built an enviable life and business together. In May of 2013 they opened their first store, Bucks & Does, at hotspot Sunset Junction in Silver Lake. It quickly gained notoriety as one of the "best clothing shops in LA" according to Los Angeles magazine. Fast forward four years, and they've now rebranded as The Odells Shop, a comprehensive clothing and lifestyle boutique showcasing their expanding line of kids clothing and home goods (the handpainted wallpaper is my fave!), as well as an eclectic mix of other vintage, apothecary, and apparel brands. The entire store got a facelift, including a chic yurt out back where classes and workshops with designers will take place.
Six weeks after giving birth to her third child, Laura glides in with all three kids in tow, looking chic as ever in The Odells Utility slouch jumpsuit, hair and makeup in place. As a mother, I can't even imagine how much hard work, patience, and organizational skills it takes to juggle all of these things and make it look so effortless. That's why I had to sit down to Laura to learn all of her secrets!
Find out what lessons she's learned from working with her main squeeze, who her style icons are, and what exciting things are in store for the next chapter of the O'Dells.
What have you and Jason learned from each other after working side by side all these years? Any advice from other couples who are in business together?
Over the years Jason and I have learned to really separate our job responsibilities. Back in the day when he was a full-time photographer, I had to wear all the hats in the company and had my hand in every aspect of the business. It was pre-kids so I had more time on my side, but even before having Shaun (my oldest), I was over it. It's hard to be creative when you have everything else to worry about, from preparing cut tickets for production to making sure your bills are paid and your deliveries ship on time. It was exhausting and overwhelming. When Jason came on and took over managing production and the company finances, it was a huge relief for me.
Now I'm able to step into the role of being creative without having to worry too much about the other stuff. Coming from the photography world, Jason is extremely detail-oriented which is an awesome quality to have when you're managing production and finances. He doesn't stick his nose too much in the design department, and I let him do his own thing when it comes to running the nuts and bolts of the company. Now that we have three kids, my time is definitely precious. I'm lucky to have him as both my partner and my husband. My first piece of advice for couples in business together would be to not micromanage the other person's job. That gets old really quickly and can end up affecting the relationship.
Who are some of your personal design or style icons?
Ali McGraw, Bianca Jagger, Bridget Bardot and Natalie Wood.
What are some of your favorite items in the shop right now?
Mother Denim "The Dazzler" shift, By Far pointed toe nude leather boots, Reath linen wide leg pants, The Odells utility slouch jumpsuit, and Annam silk dresses.
You've described your personal style as in line with your brand, which is "California cool." What piece(s) are on constant rotation in your closet right now?
Since I just had a baby six weeks ago, my body is definitely still in transition mode. I'm wearing a lot of our Odells slouch pants, which have an elastic waistband, and cotton tees like the twist neck tee because I can pull it down to breastfeed.
Travel seems to be a big inspiration for your designs. What's the best trip you ever took, and why? Where are you still dying to visit?
That's a hard question because every trip I've ever taken has been amazing, but I'd have to say last year's trip that Jason and I took to Sicily was pure magic. We rented a motorcycle and used it as our only means of transportation while we were there. We also visited the towns where my grandparents were born and ate the most amazing food. One of my bucket list places to visit is Africa, but I want the kids to be a little older so we can take them on a safari.
Congrats on the expansion and rebranding of The Odells Shop! It's beautiful. What does this mean for the future of the brand? What can fans expect to see in the near future?
It's been wonderful having a store because we really get to see first-hand what customers are asking for and what sells, which I'm then able to interpret in my designs. As we grow, I'd love to start developing more lifestyle products. We recently launched our candle, "Selinunte," which has a signature scent I created with my sister who's a perfumer. It's inspired by our honeymoon in Italy and the Mediterranean Sea, and is unisex which is awesome because Jason loves it too. I'm also excited about the shoe line we're launching for Spring '18.
The Silver Lake neighborhood seems to have been a big influence on your business, and it's also where you call home. How does it inspire you?
I've lived in Silver Lake for 16 years now. I've seen it evolve and change, and I'm constantly inspired by this awesome segment of Los Angeles. I couldn't imagine living anywhere else at this junction. I love how diverse the area is, and I'm always finding inspiration, whether it be from a wild flower I see growing along the reservoir path, or an interesting outfit combination I see someone sporting. I love observing street style.
How has becoming a mother impacted your career?
I don't dilly dally because my time is precious. I work fast and make decisions with conviction. I also have an awesome team which makes it all possible.
What's your secret weapon for motherhood? Do you have any people, places, or things that get you through those challenging times?
There are so many things that I would consider a secret weapon. First off would be running. Whenever Jason sees that I'm getting frazzled, he tells me to go on a run. Luckily we live right by the reservoir so all it takes is heading out my front door. Something about releasing those endorphins is a huge re-set for me.
I'd also say that having a date night, whether it be with Jason or with my girlfriends, is huge for me. Leaving LA is also essential for me. I love the city but when I need to quiet my brain we go up to Big Bear and suddenly I feel calm again.
THE ODELLS Shop is located at 3906 Sunset Blvd., Los Angeles, CA 90029. (323) 741-0039. Hours: Monday to Saturday 11am to 7pm, Sunday 11am to 6pm.
Ruby Nichols is a Fashion Mamas LA member, the founder of Almanac of Style, and mama to Dash.